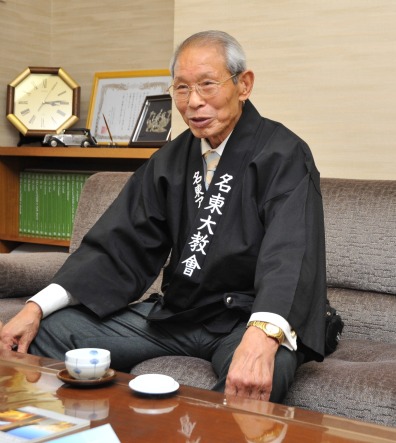 We are continuing our series on Keigo Morishita's interview from issue 240th of Arakitoryo!  Please read and enjoy!
Arakitoryo: Please describe the circumstances that led to you to discover the path.
Morishita: When I was running the bar in Kobe, I was married to my first wife. She was the daughter of a woman who owned a nearby coffee shop. Business went well and we were blessed with two children. I was also rolling in the dough. However, our relationship was starting to sour.My mother-in-law invited me to go to Jiba during such a time. She was already a believer by then. She told me: "Morishita-san, you're a good man. I'm so sorry my daughter is so willful. Won't you come to Yamato with me? It will make you feel better."
I told her, "Hey, wait a second. Before you go on telling me what a good man I am, shouldn't you be telling your daughter to go first?" You would think, in theory at least, she would make the attempt to reform the naughty one (laughs).
But she then told me: "It's useless. You can't convince someone who isn't willing to listen." She seemed to have felt that I would be at least willing to listen to her.
Truth be told, both my mother-in-law and her own mother had their husbands leave them for other women. Their husbands did well business-wise and were blessed with many children. Yet generation after generation, the husband-wife bond was not harmonious. Truly, this is what you would call causality manifesting itself. Although I didn't know it at the time, I would understand after I learned about the path.
In any case, I understood my mother-in-law's feelings since we were in the same circumstances. She knew what I was going through as well. So I said, "Okay, Let's go to Yamato." This was in July 1952.
First thing I thought visiting Jiba was: "Woah, this sanctuary is huge. Amazing." I was deeply moved about a talk about a blessing in the Main Sanctuary. In my diary I wrote, "I was deeply moved by a talk by a minister named Seijiro Yamada."
Until then, I was really troubled about my marriage. I thought, "What's wrong here?" But I learned that things were unfolding due to my causality. The seeds I sowed in previous lives were now sprouting. I then knew that my wife was going to be willful to me. I attended the Besseki lectures in August and September. It was then when I finally decided this was the path I was going to take. This was when I embraced the faith.
All my brothers and sisters were against it. My brother, who was a Soto priest, was especially against it. He told me, "If you join Tenrikyo, you'll have everything taken away from you." But I didn't waver a bit.
I enrolled in Shuyoka (Spiritual Development Course in Jiba) in January 1953. I was really spirited. While I was in Shuyoka, I was blessed with two students. After I was done, I genuinely began my missionary efforts in Kobe.
The following year, 1954, saw the inauguration of the Hinokishin Corps. The mood was spirited in Jiba heading toward the 70th Anniversary of Oyasama (1956) and the construction of the Oyasato-yakata building complex. I would walk or ride a bicycle to Jiba from Kobe to participate in the monthly hinokishin. I remember crossing the Jusan Pass with my friends in the rain and mud. I gradually began to build a following. Then, in the lead-up to the 70th Anniversary, talk began of establishing a church as way of making an offering to our parent church so I poured more and more of my efforts toward missionary work.
We had come to a point where all we needed was a place to have God enshrined. Yet we couldn't find a good spot. Just when I was wondering what to do, one of my followers mentioned that there was an old lady who was looking for someone to take care of her. The woman lived alone and was paralyzed, so she wet and soiled her bedding. Her relatives couldn't do anything so I decided that I would take care of her. I went to talk with her relatives and they said that they would give me the house, small as it was, to me if I agreed to take care of her. They even offered to give me a cemetery plot. I was still young, so I was only looking for a place to have God enshrined, so I told them they could keep the plot. If I were in that situation now, I definitely would take it (laughs).
Caring for the woman was demanding. She would wet and soil her bedding. It was smelly and filthy. There were no washing machines back then, so I would have to wash them in a basin. I slept in the same space as the old woman. I tried to joyfully accept the situation (tanno) the best I could, thinking to myself that she must have been my wife in a previous life.
Every day, from dawn to dusk, I continued walking my rounds sprinkling the fragrance and engaging in salvation work. I would then return to look after the woman. Even after I curled to sleep, exhausted, she would wake me up, saying, "Nii-san, nii-san (young man)." When I wondered what it was about, she would tell me she did her business. At the time, there were no such things such as absorbent briefs for senior citizens, so I used rationed blankets cut into four pieces as a kind of diaper.
The doctor had said she would live for three more years, but she lived only a month-and-a-half after I began taking care of her. Her relatives then accused me, "You killed her with your prayers" (laughs). Yet I ended up getting the house in this way and established a church. It was the year of the 70th Anniversary of Oyasama.
It was the intention of my parent church to make my mother-in-law the head minister and that I would be her support by living at the church. This is Goyu Branch Church. It partly collapsed due to the Hanshin Earthquake, but the original building still houses the church.
I devoted my best efforts to salvation work and established a church, but my marriage was still unharmonious. We eventually parted. I took care of our two children while she took the business and most of the money. I took what little I had left and donated it at the 70th Anniversary of Oyasama.
Arakitoryo: You received instruction from Rev. Genjiro Kashihara, the second head minister of Myodo Grand Church.
He used the following six "weapons" to fight his causality: "1) early rising, 2) utmost marital fidelity, 3) no alcohol or tobacco, 4) prohibition from seeing the sights, 5) a lunch box of rice and pickled plum, 6) nothing but cotton."
Morishita: Yes, I received instruction from Rev. Genjiro for about three years when I was young. He married into Myodo and oversaw the establishment of nearly 400 churches including Shuto and Hofu. He also became a Honbu-in (executive official of Tenrikyo Church Headquarters). He used the following six "weapons" to fight his causality: "1) early rising, 2) utmost marital fidelity, 3) no alcohol or tobacco, 4) prohibition from seeing the sights, 5) a lunch box of rice and pickled plum, 6) nothing but cotton."
What "prohibition from seeing the sights" meant was not indulging in seeing things such as plays or going sight-seeing. "A lunch box of rice and pickled plum" meant that he never indulged in delicacies no matter where he went but ate simply. Even "nothing but cotton" was his self-imposed commandment to clothe himself simply. This was the extent to which he fought his causality.
He used to say that following just 1/100th or even 1/10th of the Divine Model amounted to being a failure. He said we at least had the obligation to at least attempt half of it.
He also gave a lot of sermons. I've heard he gave over 30,000 sermons in his lifetime. It didn't matter what time of day it was. He sometimes wouldn't stop to eat. He would say, "I'm not going to eat, so won't you wait until later to eat?"
When Rev. Genjiro administered the Sazuke, the people would he prayed for would be blessed one after another. You could say that was the extent to which he accumulated merit. He was an amazing minister.
* This is a translation of Arakitoryo No. 240 (August 26, 2010), pp. 68–87. It is a part of the "Living In the Cause of Single-Hearted Salvation" Interview Series. TR Translation Staff
* The interviewer was Seiichiro Nishi (head of publications, Tenrikyo Young Men's Association).
Stay tuned until next week for the 3rd part of five parts!
See Part 1 if you missed it.
Next: Part 3 – "To the Far Ends of Earth"
Keigo Morishita Interview Series
Part 2 – "You're a Good Man"
updated