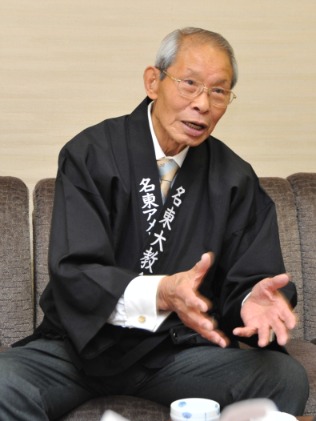 This is the final part of five in a translated interview article between the Arakitoryo newsletter and America's Pioneer of Tenrikyo, Keigo Morishita. Please the previous posts, Part 1, Part 2, Part 3, and Part 4, if you missed them! This part in the series covers Morishita's thoughts and advice in doing missionary work in the United States.
Arakitoryo: What is particularly difficult when conveying the path outside Japan?
So no matter what bad things people may say, I believe this is the path that leads to salvation, and that God is watching what I do.
Morishita: While many followers come to Brotherhood Church, very few of them will make a donation. In the U.S., if you ask someone to come to church, it is considered like an invitation to a party. People will bring snacks but they will sometimes insist, "Why do we have to pay when we were the ones invited?" You could say that's a part of their national character. But you can't do without regular contributions. So no matter what bad things people may say, I believe this is the path that leads to salvation, and that God is watching what I do.
At one particular church, the minister's sons did their best to offer donations. One day they asked their parent, "Where do these donations go?" When the answer was, "To our jokyu (parent church)," they responded, "What's that?" By the third and fourth generation, even the kids growing up at the church are thoroughly Americanized when it comes to their way of thinking. The exchange ended up in, "Why do we need to make donations when you are taking them someplace that has nothing to do with us?" While in Japan, people wouldn't have too much trouble understanding, these church boys refused to accept this. They are pretty straightforward in terms of what they think.
Also, when Americans see the church sanctuary, they will say, "Oh, the style here is Japanese. This has nothing to do with me." Again, they are straightforward in this regard. That is why I needed judo. You work up a sweat and eat together. Through this, you get chances to guide people to the faith. That is why many of our followers have come through judo. They came to know the path through a cultural activity. To tell the truth, when it comes to sermons, what Christianity offers is much better. And they do it in English. It's hard to convey the teachings with just rudimentary speaking ability like mine.
Developing people is most important.
Although in my day and age we were able to get by with just a little English, from now on, we really need people who can give solid explanations of the teachings in English. If you take this into consideration, what happen to be most important are not money or material possessions. Developing people is most important. It's best to nurture these human resources on the spot but this isn't an easy thing to do. That is why I always tell youngsters of the path to come here, even if it's just for sight-seeing and enjoyment. I want them to see what overseas missionary work looks like with their own eyes and feel it in their bones.
Arakitoryo: Sensei, could you please share with us what you valued most until now while following the path and your expectations of the younger generation?
Morishita: First among the things I valued most was saying, "Yes" and doing what my parents told me. That and being equipped with Rev. Genjiro Kashihara's six "weapons." (see part 2)
Another teaching I'd like to mention is, "Fools are desired by God." Oyasama taught this to Rev. Rin Masui. Even if you are laughed at and slandered, I believe it is important to follow the path in a straight manner. You also need to hold on to your convictions. Also, no matter what happens, one should exert one's all while being mindful of how indebted we are to God.
In any case, one ought not to just listen to the teachings. I believe it is vital to implement and master them.
In any case, one ought not to just listen to the teachings. I believe it is vital to implement and master them. In the Divine Directions, it is taught:
Because it continues, it can be called a path.

Osashizu, May 21, 1906
I'd like the younger generation to not give up and continue their faith, to take it one step at a time if they have to. There were many times I felt couldn't take it anymore and wanted to quit. I talked with my friends in those situations.
Mutual help allowed me to overcome those situations. I especially feel the importance of mutual help when it comes to overseas missionary work.
It is also important to do the Service spiritedly. Even at Brotherhood, when the morning service is over, I make it a point to say: "Good morning everyone! Let's move ahead spiritedly." It's something I do to spur myself to action. It's hard to motivate myself if I don't do it.
Youth is the embodiment of passion.
I'm losing my hair but have fairly few wrinkles. Yet getting wrinkles is a part of growing old. But you don't really grow old unless you lose sight of your ideals. The spirit withers if you lose your ideals and passion. Youth is the embodiment of passion. That is why I'd like your readers, even though their individual pace may differ, to follow the path with determination as arakitoryo (pioneers of the path). I also hope they concentrate on pursuing the path and become the fools that God desires.
Now, let's move ahead spiritedly.
* This is a translation of Arakitoryo No. 240 (August 26, 2010), pp. 68–87. It is a part of the "Living In the Cause of Single-Hearted Salvation" Interview Series. TR Translation Staff
* The interviewer was Seiichiro Nishi (head of publications, Tenrikyo Young Men's Association).
Keigo Morishita Interview Series