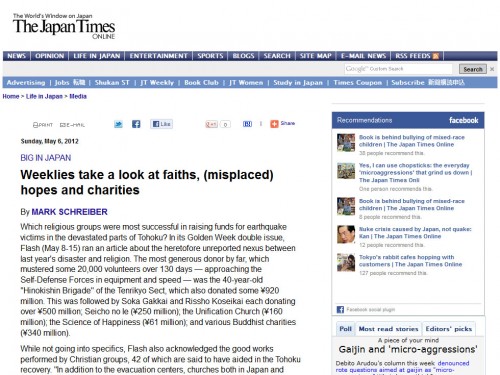 The Japan Times Online on May 6 posted a summary of recent articles from weekly newsletters, which included one on Japanese religious organizations' Tohoku disaster relief efforts.
From the online summary:
The most generous donor by far, which mustered some 20,000 volunteers over 130 days — approaching the Self-Defense Forces in equipment and speed — was the 40-year-old "Hinokishin Brigade" of the Tenrikyo Sect, which also donated some ¥920 million.
"Hinokishin Brigade" would likely be referring to the Disaster Relief Hinokishin Corps (DRHC).
Based on the what was reported in the article*, this is how the organizations would rank:
Tenrikyo (¥921 million + 20,000 volunteers over 130 days)
Soka Gakkai (¥540 million)
Rissho Kosei-kai (¥500 million + 5,305 volunteers)
Shanti Volunteer Association (a Buddhist NGO, ¥340 million)
Seicho no Ie (¥250 million)
Shinnyo-en (¥162 million + 4,205 volunteers through Feb. 2012)
Unification Church (¥162 million + about 500 volunteers)
Science of Happiness (¥61 million)
Bentenshu (¥40 million)
* Donation numbers are approximate. Numbers of volunteers were not provided for every religious organization mentioned in the article.
While it's great to hear that Tenrikyo is on top, we should appreciate that, overall, the religions of Japan have been very generous and, indeed, deserve just as much praise and recognition.
The article later goes on to explain how religion is currently viewed in politics and other political news.
It is has been noted how the media tended to neglect covering disaster relief efforts organized by religious organizations. So it is great to hear that a weekly newsletter like "Flash" helped shed positive light on religions in Japan especially on the relief efforts in the Tohoku region.
via Weeklies take a look at faiths, (misplaced) hopes and charities | The Japan Times Online.
This post has been updated to reflect the numbers cited in the weekly May 8・15, 2012 Flash article (pp. 17–20)