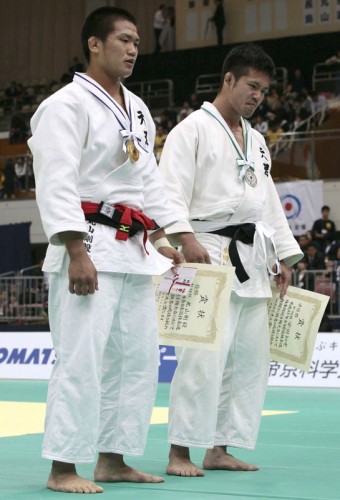 More Tenri judo news from Fukuoka, where Tenri University athletes competed in a tournament that helped select the Japanese team to compete in the Judo World Championship in Rio scheduled to begin in August this year.
Video by Doyusha:
(Translation of video narration)
On May 12 and 13, the 2013 "All-Japan Judo Invitational Tournament" was held at Fukuoka Convention Center. Four athletes from Tenri University competed.

In the 81 kg weight division, Goki Maruyama, junior at Tenri U., faced top-seeded Keita Nagashima in the opening round.

Maruyama launched a physical assault against his opponent and secured himself an ippon victory by combining an uchimata (inner thigh throw) with an osoto-gaeshi (large outer reaping throw counter).

In the semi-final, Maruyama went up against Yasuhiro Ebi, who took third place last year. He advanced into the final round with a stunning uchimata 4:38 into the match.

Tenri U. senior Tomofumi Yasuda also competed in the 81 kg class. He obtained ippons in both the opening and semi-final rounds to advance to the final.

The 81 kg weight division final was a battle between two Tenri U. judoka. Both athletes being well-acquainted with one another, became locked in an intense offensive and defensive exchange. Maruyama's aggressive approach gave him the advantage as he scored two shidos against Yasuda, landing himself his first ever championship in his weight division.
In other competition, Tenri U. senior Shohei Ono placed third in 73 kg weight division competition, becoming the only Tenri judoka to be selected for the national team in his weight division.
Related Japanese article