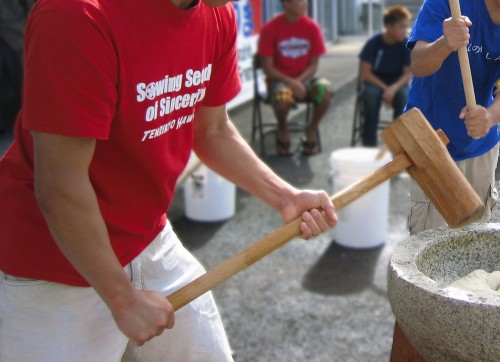 Christians have Christmas, Judaism has Hanukkah, but what do we have?
The distinctly important Tenrikyo events held in Jiba every year are: the New Year's Service (Jan. 1), Spring Grand Service (Jan. 26), Oyasama Birth Celebration Service (Apr. 18), Children's Pilgrimage to Jiba (July 26–Aug. 4), and the Autumn Grand Service (Oct. 26).
Out of the five, I would say that the Spring Grand Service is regarded as the most important given that on every tenth year, Tenrikyo followers gear up for an "Anniversary of Oyasama" and put in extra effort from a few years prior to have as many people as possible to return to Jiba on January 26. Followers living outside Japan who can't make it on that day often make their best effort to return during another time during the year.
Every year on April 18, thousands of Tenrikyo followers gather at the Shinden, listen to a sermon detailing Her Model path, and sing songs to celebrate Oyasama's birthday. It's something not to be missed, especially because it is to celebrate the birthday of our very beloved Oyasama, who taught us the wonderful teachings we cherish daily.
Celebrating Oyasama's birthday overseas
In Hawaii, where I am from, Oyasama's birthday is expressed as an important occasion in that the Boys and Girls Association (BGA) holds an event in collaboration with Women's Association (WA), the Young Men's Association (YMA), and Young Women's Club (YWC). However, the event is not very big and usually ends up being on a different day from April 18 since it usually does not fall on a weekend. So while we celebrate Oyasama's birthday, there may be a tendency for us to lose sight of the grand significance of the actual date of April 18.
So, to add a little more significance to this day, I suggest that we start a new tradition: Wear red on April 18. Wear it to school, wear it to work; whatever you do on that day, try to wear red. You don't have to explain to people why, but it will, most importantly, remind you of this day.
This idea was actually introduced by my older brother once, but it wasn't promoted heavily as it could have been.
So why red?
Oyasama began wearing red in 1874. It was unusual for an old woman to wear a bright red kimono in those days because bright-colored kimono were generally worn by young women. But Oyasama's red kimono became a symbol of salvation to those who sought it as well as being a symbol of the Divine Model, a lifestyle of helping others.
By wearing red, we can remind ourselves the importance of following the Divine Model, get through the day with utmost joy for being kept alive by God's providence, and help those around us with greater zeal. Wear red and tell your fellow followers why.
This Year
This year is the 126th year since Oyasama "hid her physical presence" on January 26, 1887. The event of Oyasama withdrawing Her physical presence is highly important to Tenrikyo followers such that every tenth year, an "Anniversary" is held and the next one is just around the corner. We will be commemorating the 130th Anniversary of Oyasama in just four years.