I apologize for not doing an immediate follow up to the "What does a Tenrikyo Church look like around the world?" article posted a few months ago. I was not able to because I did not get any responses to the article until I asked a friend if she could help me out. So I decided to start a series featuring one church at a time.
In this article, I will be featuring Igreja Tenrikyo Central in Sao Paulo, Brazil. ("Igreja" means "church" in Portuguese)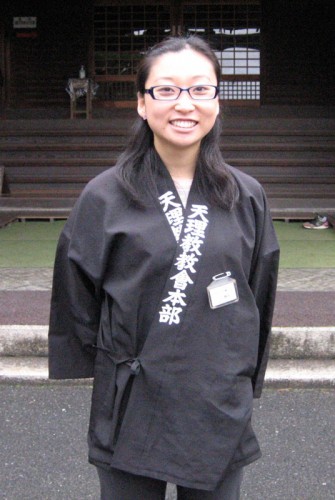 Thankfully, my friend, Sayuri, had graciously given me photos of her beautiful church in Sao Paulo, Brazil! She referred me to a Picasa photo album, here and we had a small chat about her church.
Meet Meire Sayuri Aizawa, 27 years old, a 4th-generation Japanese-Brazilian Tenrikyo follower born and raised in Sao Paulo at Igreja Central. She is the daughter of the current and 3rd head minister.
Igreja Central belongs to the church lineage of Takaoka Grand Church and is in its 57th year of establishment. It has 5 subsidiary mission stations.
Sayuri's great-grandfather, the first in her family to start following the faith, was sent by Takaoka Grand Church to do missionary work in Brazil. He established Igreja Central in 1955.
A Church in Brazil
I felt that this was a good opportunity to mention the subtle differences that a Tenrikyo church located overseas has from its Japanese counterpart. Surprisingly, Igreja Central hasn't derived very much from the Japanese traditions despite a distance of 11,507 (18,517 km) – nearly half the circumference of the Earth! – between the two countries.
Here are the differences:
For the daily services, they use chairs on the upper dais (jodan). However, during the monthly service for the seated service, they sit directly on the dais. Other than that, everyone sits on chairs.
People who own a Service kimono wear it at the monthly services.
Daily food offerings are largely the same when it comes to vegetables: lettuce, cabbage, other greens. However, when it comes to fruits, one will notice the offerings include some that are likely not found in Japan such as maracujá (passionfruit) and jabuticaba (Brazilian Grape Tree).
Church Activities
Just like in Japan, fish is included as a food offering for the monthly services, which are held on the first Sunday of every month at this Igreja Central. On the Saturday prior, about 20 followers come to help clean and prepare for the service. Between 60 and 80 followers attend the monthly service.
There are about 15 children who belong to their Boys & Girls Association. They have a sleep-over on the Saturday prior to the monthly service which include activities that help participants learn the Tenrikyo teachings.
Their Young Women's Club set up a booth for after the monthly service to sell goods. The proceeds go to help Takaoka Grand Church fund their loan, which was used to rebuild its sanctuary in commemoration for its 120th anniversary last year.
Conclusion
Despite its distance from Japan, I felt that Igreja Central has been very faithful in keeping the appearance of its Shinden (sanctuary) to closely resemble its Japanese counterpart. Likely due to its large number of active followers, Igreja Central was able to establish a building structure that resembles a place of gathering rather than just a normal house, like many other typical Tenrikyo churches.
I hope you were able to learn more about what a Tenrikyo church looks like! While the inside, in the sanctuary, is mostly similar, the outside is fairly unique to other Tenrikyo churches and its design allows it to assimilate the Tenrikyo teachings in the country it resides in.